Social Media Content Ideas for Authors — June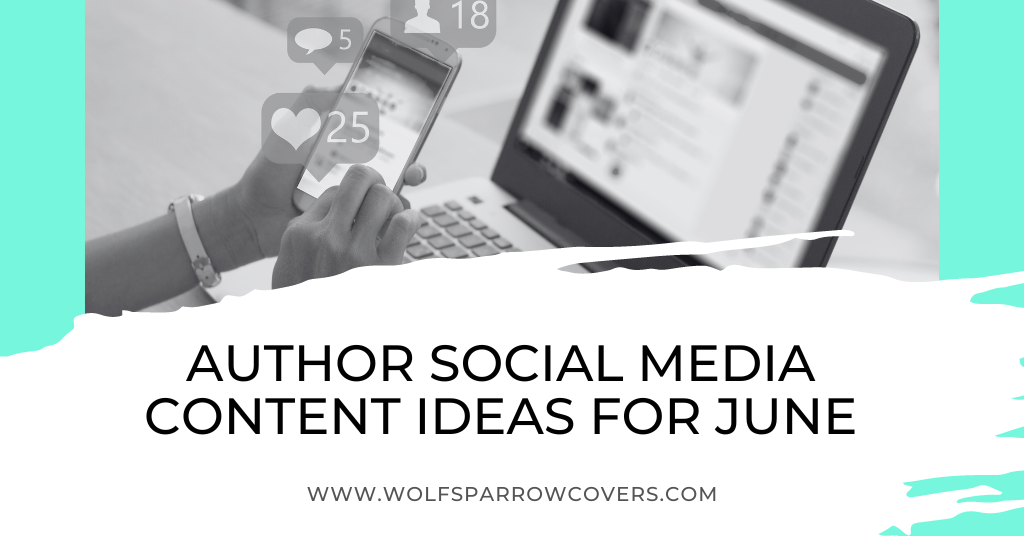 I'm back for another month of ideas (if running a little late this time lol)! Here's some quick and simple content ideas for those days when you can't think of what to post. These can be regular photo posts, carousels, or made into videos/reels. Make sure to check out my bundle of summer-themed marketing Canva graphics to help make your content planning this summer a breeze!
Without further ado…
Audiobook Appreciation Month: To draw more readers to your platform, highlight audiobooks you've loved and enjoyed all month! (You can also promote your own if you have them.)
Inspiration: Recommend a book that has influenced your writing journey and tell us why it's a must-read for aspiring writers.
#TeaserTuesday: Create a graphic or reel featuring an exciting or juicy quote from one of your books. Or spotlight the most Kindle-highlighted passage from your book!
Workflow: Share a photo of your favorite writing spot and tell us why it speaks to you.
Pride Month: Spotlight your favorite reads from queer authors! (Please do not neglect queer BIPOC books and authors.)
National Higher Education Day (June 6th): Have a young adult or new adult book set in college/university? Tie in this national day to your promotion.
Library: Create a reel taking us on a journey to your local library or little free library.
Research Materials: Share a TBR stack of the books you're using for research on your current WIP. You can use the hashtags #TBRpile and #TBRlist to help get more views.
National Best Friends Day (June 8th): Spotlight a friendship in one of your novels.
#HBNotebookChallenge: Join in @heartbreathings monthly challenge and share what notebooks you're currently using (and if you want, share what you're using them for).
BONUS: Other Bookish Events/Days in June
National Sex Day (June 9th): Write steamy/spicy romance or erotica? Tie this holiday into your sex-positive marketing. According to National Today, "National Sex Day is dedicated to the joys of having sexual relations, engaging in pleasurable activities, and exploring each other's bodies."
National Loving Day (June 12th): Write interracial romance or multicultural family stories? Celebrate those relationships from your books.
Sneak A Kiss Day (June 15th): Tie this lip-puckering holiday into your marketing by highlighting a favorite kiss from one of your novels. (There's also National Kissing Day on June 22nd!)
Nursing Assistants Day (June 17th): Is a main character in your book a nurse? Spotlight them today.
National Panic Day (June 18th): Highlight books by others (or yourself) with panic disorder/anxiety rep to help raise awareness. (There's also National PTSD Awareness Day on June 27th.)
Juneteenth (June 19th): Celebrate Black joy and freedom by sharing some of your favorite books by Black authors.
Learning Disability Week (starting June 19th): Shine a light on books with learning disability rep.
World Productivity Day (June 20th): Nonfiction author of productivity books? This day is for you!
Summer Solstice (June 21st): Write witchy urban fantasy or paranormal romance? It's a good day to celebrate the witchy or pagan flair of your novel/series.
Stonewall Riots Anniversary (June 28th): Another opportunity to spotlight queer books and authors. Perhaps this time spotlight nonfiction works rather than fiction.
National Work From Home Day (June 29th): Full-time author? Share a reel about a day in your life as you work from home.
Come back next month for 10 new ideas. Be sure to save this post for future reference!